Our 2.5″ and 4″ dial ammonia gauges are stocked locally in large volume, and have been specifically designed and engineered to set a new industry standard for quality and efficiency with the following advantages and features:
Stainless Steel Construction
All stainless steel construction with 2.5" dial 1.5% full scale accuracy and 4" dial 1% full-scale accuracy. Meeting or exceeding the industry standards!
Slim & Rugged Case Design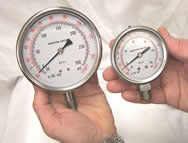 Thin style stream-lined case design that is light weight and yet still specifically designed for the rugged performance requirements of the industrial process market.
Welded Tube & Sockets
Welded tube & socket design eliminates the common complaint of o-ring stem leakage, and provides a more rugged and durable design against vibration and other environmental conditions.
Standard Silicone Liquid Fill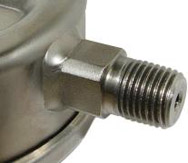 Silicone is utilized as the standard liquid fill to accommodate the lower temperature extremes that the ammonia gauge will be subjected to during vacuum service.We offer this option at NO ADDITIONAL CHARGE with the understanding that it enhances our ability to provide our customer with a liquid-filled gauge to protect against vibration, even under vacuum conditions where a normal glycerine fill would not be compatible.
Competitive Pricing
Our pricing structure is VERY AGGRESSIVE and tailored to obtain and service high volume and resale accounts. WE WILL BE PRICE COMPETITIVE!